We're excited to announce that our renovation of One Highland, a prominent office building in Birmingham, Alabama, won a first-place award in the 2022 ABC Alabama Chapter – Excellence in Construction Competition. Our winning project was chosen from more than 80 submissions to ABC's competition, the construction industry's premier annual awards program.
"One Highland was a unique project that featured site improvements, façade upgrades, and common space renovations to the highest level finishes that were made possible by an outstanding preconstruction process coupled with in-field coordination. This project, to me, captures the essence of the Excellence in Construction award." – Drake Babis, Project Manager
Exterior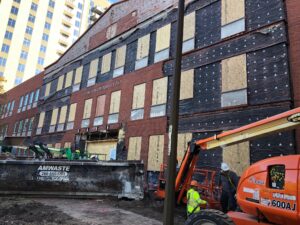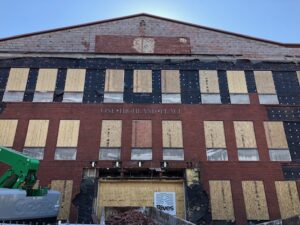 As the general contractor, Rives Construction completed a renovation of the 100,000 + square foot facility, which included extensive customized interior and exterior work. We demolished the upper and lower parking lots and reconfiguring the layout. We also installed a new irrigation system and made significant landscaping updates including a paver entrance with steps, plinths and planters.
Additional exterior highlights:
Custom steel staircase featuring a LED-lit stainless-steel handrail
New sidewalk entrance
New columns and a steel canopy with a custom glass infill
Interior
Interior renovations included the addition of a custom millwork feature and glass handrail to the main stairwell. Rives ordered the custom terrazzo metal strip from a specialty supplier and gave to the custom finisher to match with other interior components. This process was done seamlessly without holding up floor tile installation.
Additional interior highlights:
New elevator shell and cab
Raised lobby ceilings and custom finishes
Re-running plumbing and electrical service lines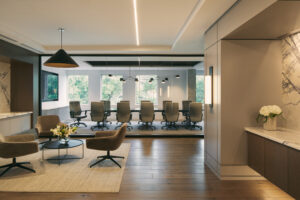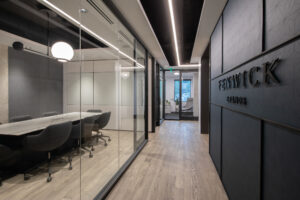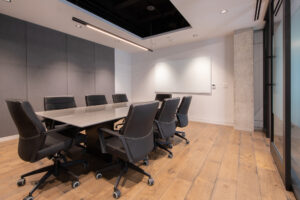 Throughout the project, Rives stayed mindful of existing tenants, carefully phasing progress of the outside renovations alongside interior work. There was not a single hour in the normal work week that the building had to be closed during the renovation. Additionally, Rives successfully handled all challenges that arose including a five-month delay on the feature light fixtures.
"Rives was able to assign outstanding teams to this project. When one crew completed the work for the day on the exterior the next would come in to work on the interior portion at night – a true example of a team effort. Rives is consistently able to allocate the right team for the right project, and I am honored that I was able to take part in this one." – Drake Babis
The end result is a beautiful office building in a prime location on par with other modern spaces in town.
Learn more about Rives Construction: